International Conference on Exhibiting Sounds of Changes
Date: Monday 11th of June – Wednesday 13th of June 2018
Venue: The Finnish Labour Museum Werstas
Väinö Linnan aukio 8; 33210 Tampere, Finland.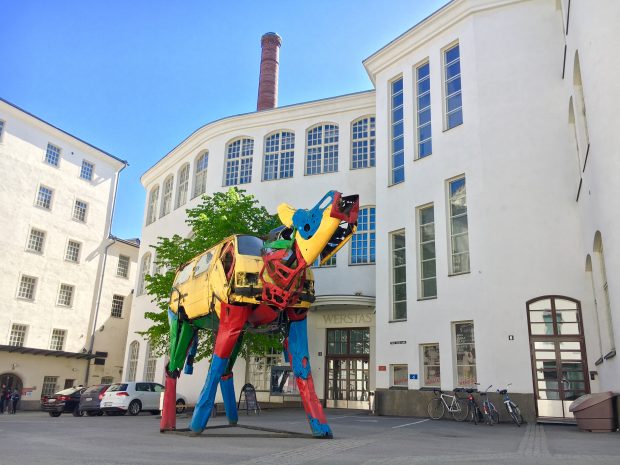 Registration is now open until May 20, 2018
soundsofchanges@tyovaenmuseo.fi
Read more about the session speakers on the link below
Speakers abstracts
Session Programme
11.6 Monday arrival day
18.00-20.00 Welcome get-together and conference registration at Lenin museum
***
12.6 Tuesday The Finnish Labour museum Werstas
9.00-9.45 Conference Registration
10.00 Welcome speeches
10.15 Keynote Speaker Meri Kytö (FIN) Soundscape Recordings, Cultural Brokerage and Translatability of Sonic Experience
11.05-11.15 Break
11.15-12.15 Session 1
Jörg U. Lensing (GER) Re-Enactment for Soundscapes
Ari Koivumäki (FIN) How to Find the Right Sounds
12.15-13.15 Lunch
13.15-14.15 Session 2
John Kannenberg (UK), Sounds as Objects of Culture: Exhibition Strategies at the Museum of Portable Sound
Outi Penninkangas and Lila Heinola (FIN) Sound Museum
14.15-14.45 Coffee
14.45-16.15 Session 3
Marina Sahnwaldt (GER) KLANGSPORT. A Sonic Exploration of Sport Disciplines
Pekka Virtanen (FIN) Noisy Nature
Frank Meyer (NOR) The Sound of Norway. Farm Bells and Big City Cacophony
16.15- Break
18.00-22.00 Social evening in Härmälänranta sauna. Bus transport from Tampere Old Church
13.6 Wednesday The Finnish Labour Museum Werstas
10.00 Keynote Speaker Ramon De Marco (SUI) – Acoustic Scenography – Turning Ideas into Sound
10.50-11.00 Break
11.00-12.30 Session 4
Kathinka Engels & Konrad Gutkowski (GER) Sounds as Cultural heritage – The EU-project "Sounds of Changes" and how Sounds can Revive Memories
Søren Bak-Jensen (DK) That Reminds me of…. The Importance of Visitors Sharing Memories at the Workers Museum in Copenhagen
Kimmo Kestinen (FIN) Sounds in Silence – Use of Sounds in Finnish Labour Museum Werstas exhibitions
12.30-13.30 Lunch
13.30-14.30 Session 5
Ivan Pavlovich Petukhov (RUS) Sounds in the Exhibition "The Empire on the Ways of Modernization. Russia in the 19th – early 20th centuries"
Heta Kaisto (FIN) Listening to things that leave you speechless: Renewing Lapua Ammunition Factory Museum's permanent exhibition starting with a sound
15.30 Visit to Vapriikki
18.30-20.30 Social evening at Werstas
Travel and accommodation
Location
The Finnish Labour Museum Werstas is located on Väinö Linnan aukio 8, 33210 Tampere, Finland.
http://www.werstas.fi/?lang=en
By air
Tampere is well connected and easy to reach. There are some direct flights to Tampere-Pirkkala airport. However, more convenient way might be fly to Helsinki-Vantaa Airport.
There is a pleasant and inexpensive train connection to Tampere from Helsinki-Vantaa Airport. Local train takes you to the Tikkurila train station and from there you can catch the Pendolino or IC2 train to Tampere center in less than 2 hours.
From the railway station in Tampere you walk pleasantly in about 15 minutes to the museum.
Hotels
Hotel Cumulus City Koskikatu
https://www.scandichotels.com/hotels/finland/tampere/scandic-tampere-koskipuisto/rooms?_ga=2.84215321.1806790751.1522064617-17576066.1522064617
Radisson Blu Grand Hotel Tammer  (located closest to the Labour Museum Werstas)
https://www.radissonblu.com/en/hotel-tampere
Other options:  https://visittampere.fi/article/hotels-in-tampere
Important addresses
The Lenin Museum
It is situated in the Worker's House in the center of Tampere at the cross street Hämeenpuisto and Hallituskatu. http://lenin.fi/?lang=en
Hämeenpuisto 28; 33200 Tampere
Sauna Villa Härmälänranta
Viimankatu 2, 33900 Tampere
***
Exhibiting Sounds of Changes
Tampere, 12-13th of June 2018
CALL FOR PAPERS
In museums, we do have paintings, photographs and all sorts of items. They tell our visitors what things used to look like in the past. Few museums use sounds for their collections and exhibitions. However, museum exhibitions cannot only be experienced visually, but also by hearing. But, it is not only a question of bad planning and a lack of technology: we simply do not know enough about sounds as sources and as medium.
In 2013, six European museums started to record endangered and disappearing sounds of industrial society. The "Sounds of Chnages"-project (2013-2015) was soon followed by the "Sounds of Changes"-project (2017–2019), both were funded by Creative Europe programme. In these projects we have collected a great archive of historical sounds that can be used for free from www.workwithsounds.eu. All the sounds are licensed under Creative Commons and can be found in Europeana and Wikimedia.
The Sounds of Changes project, WORKLAB (International Association of Labour Museums) and The Finnish Labour Museum are organising a summer conference, 12th-13th of June 2018, in Tampere. The two-day conference will focus on sounds of industrial, social and technical culture. How can we present and preserve sounds in museums?
We encourage all museum professionals, researchers and exhibition designers to submit papers that relate to the wide themes of exhibitions, sounds and history. We welcome theoretical approaches as well as practical case studies, tools and best practices. Papers presented at the conference are invited to share innovative ideas, experiences of trying new things, successes, opportunities and failures dealing with one or some of the following topics:
– Using sound technology in exhibitions
– Visitors and sounds
– Soundscapes, silence and noise in museum exhibitions
– Historical sounds of everyday life
– Sounds in/as exhibition narratives
– Authenticity of museum sounds
– Sounds, hearing and inclusion
– Historical and recreated speech acts in exhibitions
– How to find the right sounds?
The Call for Papers is open until 31st of March 2018. If you would like to present your project please send your proposal (200-300 words) along with a brief professional profile (100-200 words) to: soundsofchanges@tyovaenmuseo.fi.
The conference will take place at The Finnish Labour Museum in Tampere. Participation is without a fee; however travel, accommodation and daily living are at your expense. Tampere is a lively city located in southern Finland. It can be reached from Helsinki airport by a two-hour train connection. The programme will include paper presentations, keynote speeches and social activities in summery (and cool) Finland.
Updated info can be found on WORKLAB website www.worklab.info and soon on the project site www.workwithsounds.eu.
"Sounds of Changes" is a EU project funded by Creative Europe program (2017–2019). It is a joint effort of six museums: Swedish Air Force Museum (Sweden, project leader), Muzeum Inżynierii Miejskiej (Poland), LWL-Industriemuseum (Germany), Museum of Work (Sweden), Technical Museum of Slovenia and The Finnish Labour Museum. Museums are collecting, interpreting and disseminating endangered sounds and soundscapes together. See more at www.workwithsounds.eu.
WORKLAB – The International Association of Labour Museums is a dynamic network founded in 1997. Today, this network has more than 30 member museums from four continents. WORKLAB museums represent a lively scale of museums interested in social, industrial and labour heritage. Network organizes conferences, projects and publications. WORKLAB meetings are open for everyone. See more at www.worklab.info.
* * *
Work with Sounds – Conference 2015
The conference takes place 19.-21.8.2015 in the headquarters of the LWL-Industriemuseum in Dortmund, Germany.
There will be sections on sounds and soundscapes of Europe, on urban sounds, museum sounds, reflecting sounds and working with sounds
In 1971 the composer and sound researcher R. Murray Schafer started the "World Soundscape Project," which was devoted to the comparative study of soundscapes. The driving impulse behind his project was the realization that industrialization and urbanization brought about a drastic change in the acoustic environment. The issue of the acoustic environment remained unaddressed by the scholarship long after. But gradually the arts, humanities and cultural institutions are beginning to turn their attention towards the cultural meanings of sounds and listening.
What was the soundscape of industrialization? How does it differ from the soundscape today? Has the volume of our environment increased or decreased? When did people begin to perceive urban and industrial sounds as a nuisance? When did people start measuring the acoustic environment? Where and why have sounds turned into acoustic codes? What role does the technical reproducibility of the acoustic play? Which sounds are carved into the acoustic memory? What significance can sounds have for the identity of individuals, collectives or even nations? What sources can be used for a comprehensive Sound History? How do museums deal with the acoustic cultural heritage and how can they impart it? What are the benefits of publicly accessible sound collections and who would make use of them?
The final conference of the EU-Project "Sounds of Changes" in 2015 brings together sound projects from museums, archives, universities and media to share their experiences with recording, conserving, exploring and using the sounds and soundscapes of Europe. In panels on urban sounds, museum sounds, reflecting sounds and working with sounds the conference wants to present and discuss theories and practices in the history and anthropology of sound, the importance and meaning of sound, and the potential of working with sounds – internationally and interdisciplinary.